Economist
Economist
Programme description
Basic programme goals leading to economic background are focused on your success:
You will acquire an in-depth professional theoretical knowledge and skills that will enable you to start your own business venture.
You will be equipped with a broad knowledge of commercial, financial and accounting management.
You will upgrade the knowledge of sales and marketing, the two areas that are central to business performance.
You will gain a thorough knowledge of business management and organisation.
Beside the applied knowledge our school also provides students with numerous skills that are indispensable in the business world, such as the sense of organisation, the ability to maintain a clear view over several activities at the same time, the sense of attentive, well-performed quality work that is consistent with the company aims, communication skills, computer skills (Word, Excel and the Internet) and conversational knowledge of English.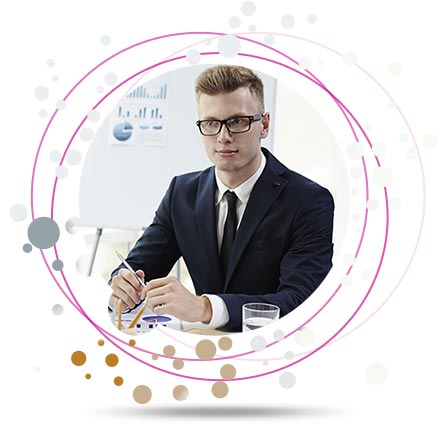 Why study at B2 Higher Vocational college? 
You can choose among three elective areas:
Sales specialist
Operations manager
Accountant

Curriculum
Sales specialist
| | |
| --- | --- |
| COMMUNICATION | (16 ECTS) |
| Business foreign language 1 |   |
| Business communication |   |
| ANALYSIS  | (14 ECTS) |
| Information science |   |
| Business mathematics with statistics |   |
| BUSINESS | (14 ECTS) |
| Company organisation and management  |   |
| Economics |   |
| Business finance basics |   |
| PRACTICAL TRAINING |   |
| Includes parts of all selected modules |   |
MARKETING
(8 ECTS)
Marketing 
 
COMMERCE
(20 ECTS)
Sales 
 
Purchase
 
LAW
(8 ECTS)
Business law
 
QUALITY 
(7 ECTS)
Quality assessment and assurance
 
MANAGEMENT OF TECHNOLOGICAL
PROCESSES WITH LOGISTICS
(15 ECTS)
Products and technological processes design 
 
Business logistics 
 
ELECTIVE SUBJECT
DIPLOMA WORK
(5 ECTS)
(5 ECTS)
Operations manager
| | |
| --- | --- |
| COMMUNICATION | (16 ECTS) |
| Business foreign language 1 |   |
| Business communication |   |
| ANALYSIS  | (14 ECTS) |
| Information science |   |
| Business mathematics with statistics |   |
| BUSINESS | (22 ECTS) |
| Company organisation and management |   |
| Economics |   |
| Business finance basics |   |
LAW
(8 ECTS)
Business law
 
QUALITY 
(7 ECTS)
Quality assessment and assurance
 
BUSINESS PROCESSES 
(8 ECTS)
Business processes 
 
LOGISTIC MANAGEMENT 
(20 ECTS)
Quantitative methods in logistics
 
Supply chains
 
Stock management
 
ENTREPRENEURSHIP AND MARKETING
(15 ECTS)
Entrepreneurship 
 
Marketing
 
PRACTICAL TRAINING
 
Includes parts of all selected modules
 
ELECTIVE SUBJECT
DIPLOMA WORK
(5 ECTS)
(5 ECTS)
Accountant
| | |
| --- | --- |
| COMMUNICATION | (16 ECTS) |
| Business foreign language 1 |   |
| Business communication |   |
| ANALYSIS  | (14 ECTS) |
| Information science |   |
| Business mathematics with statistics |   |
| BUSINESS | (22 ECTS) |
| Company organisation and management |   |
| Economics |   |
| Business finance basics |   |
ACCOUNTING BASICS
(8 ECTS)
Accounting basics
 
ACCOUNTING 
(20 ECTS)
Financial accounting
 
Cost accounting
 
TAXES WITH ANALYSIS 
(15 ECTS)
Taxes
 
Balance-sheet analysis with revision
 
CORPORATE ACCOUNTANCY
if you want to become a accountant for companies
(15 ECTS)
Insolvency procedures
 
Accounting for entrepreneurs
 
PRACTICAL TRAINING
 
Includes parts of all selected modules
 
ELECTIVE SUBJECT
DIPLOMA WORK
(5 ECTS)
(5 ECTS)